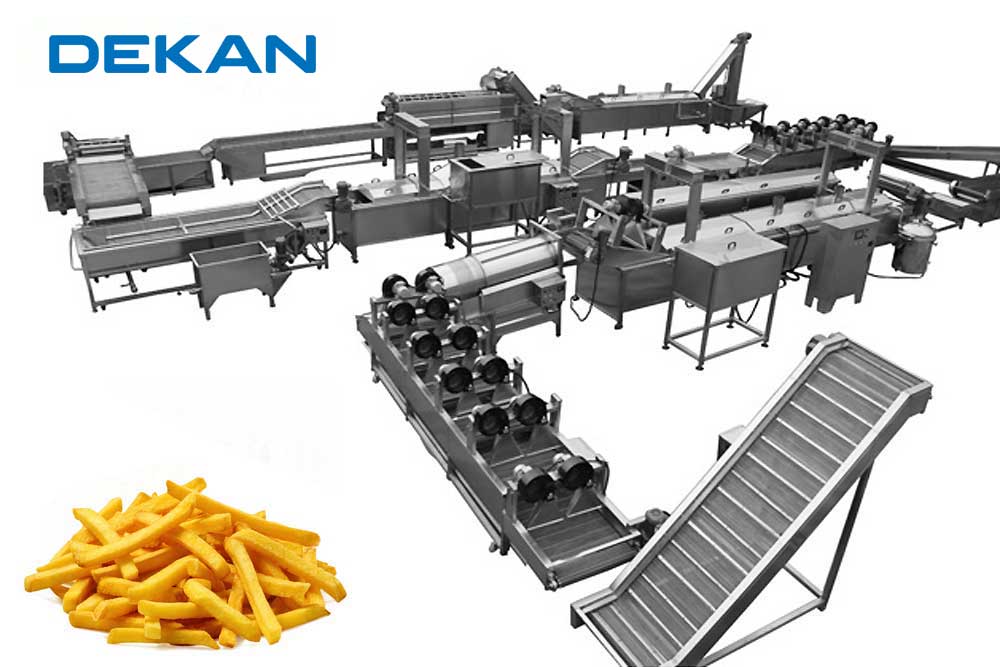 FRIED PRODUCTION LINE requires attention and skill, which are qualities that we at DEAN highly appreciate and on which we continue to develop. Therefore, we understand that a good product begins with the development of a good production process. Customer desires play a vital role in this process.
At DEKAN, therefore, we also attach great value to joint engineering. When we make a line for the production of chips, we always take into account the fact that different potato specialties require a specific processing process. Whether it is fresh french fries, slices or cubes, we think that together with you we will find the right solution. The french fries line includes segments for washing, peeling, blanching, pasteurization, sterilization, frying, cooling, freezing, transport, measuring and packaging. The use of a descaling system, as well as a washing and peeling system, eliminates stones and other heavy particles that fall through the inlet jet of water and collect in the chamber, in the lower part of the device.
From there, the potatoes are transported by a belt conveyor to the abrasive mechanical peel, and then to the belt for manual control. After cutting and sorting, the potatoes reach the blanching device where they are kept for about 30 minutes. at a temperature of 80 ° C. After drying on a vibrating dryer, the potatoes reach the fryer with an insulating hood and stay there for 150-180 seconds. After staying on the vibrating oil separator, the product reaches the cooling chamber where it is cooled for about 4 minutes to a temperature of 4 ° C, and then to the quick-freezing tunnel where the temperature drops to -20 ° C in about 9 minutes.
TEHNIČKE KARAKTERISTIKE / TECHNICAL SPECIFICATIONS

VISOKA EFIKASNOST. AUTOMATIZACIJA KOMPLETNIH LINIJA ZA PROIZVODNJU POMFRITA POVEĆAVA EFIKASNOST U SVIM ASPEKTIMA, POPUT ENERGETSKE EFIKASNOSTI I EKONOMSKE EFIKASNOSTI. / HIGH EFFICIENCY. THE AUTOMATION OF COMPLETE FRENCH FRY PRODUCTION LINES INCREASES EFFICIENCY IN EVERY ASPECT, SUCH AS ENERGY EFFICIENCY AND ECONOMIC EFFICIENCY.
KORISNIČKI ORIJENTISAN RAD. BUDUĆI DA SE KOMPLETNA LINIJA ZA POMFRITA SASTOJI OD MAŠINA ZA AUTOMATSKU OBRADU, KAO I KONTROLNIH SISTEMA, OPERATERIMA JE LAKO DA NADGLEDAJU CELU OBRADU POMFRITA. A OVO MOŽE DUGOROČNO OSIGURATI NESMETAN RAD PROIZVODNE LINIJE SA VEĆOM DOBITI. / USER-FRIENDLY OPERATION. SINCE THE COMPLETE LINE FOR FRENCH FIRES IS CONSIST OF AUTOMATIC PROCESSING MACHINES AS WELL AS CONTROL SYSTEMS, IT IS EASY FOR OPERATORS TO MONITOR THE WHOLE PROCESSING OF FRENCH FRIES. AND THIS CAN ENSURE THE SMOOTH OPERATION OF THE PRODUCTION LINE FOR LONG TIME WITH MORE PROFITS.
TRAJNOST I HIGIJENA. SVE MAŠINE U NAŠOJ AUTOMATSKOJ LINIJI ZA PRERADU POMFRITA SU NAPRAVLJENE OD ROBUSNIH NERĐAJUĆIH ČELIKA. S JEDNE STRANE, OVO ĆE NAŠE PROIZVODNE LINIJE UČINITI DOVOLJNO IZDRŽLJIVIM ZA RAD DUGO VREMENA. S DRUGE STRANE, OVO ĆE OSIGURATI HIGIJENU I SIGURNOST KRAJNJEG PROIZVODA. / DURABILITY AND HYGIENE. ALL THE MACHINES IN OUR AUTOMATIC FRENCH FRIES PROCESSING LINE ARE MADE OF ROBUST STAINLESS STEELS. ON ONE HAND, THIS WILL MAKE OUR PRODUCTION LINES DURABLE ENOUGH TO WORK FOR LONG TIME. ON THE OTHER HAND, THIS WILL ENSURE THE HYGIENE AND SAFETY OF THE END PRODUCT.
JEDNOSTAVNO ODRŽAVANJE. OSIM VISOKOKVALITETNIH MATERIJALA, NAŠE MAŠINE U LINIJI POMFRIT SU DIZAJNIRANE I PROIZVEDENE NA INOVATIVNE NAČINE. TAKO JE LAKO OBAVITI RADOVE ODRŽAVANJA SA KRAĆIM VREMENOM ZASTOJA, A ISTOVREMENO OSIGURATI SIGURNOST KONAČNOG PROIZVODA. / EASY MAINTENANCE. EXCEPT FOR THE HIGH QUALITY MATERIALS, OUR MACHINES IN THE FRENCH FRIES LINE ARE DESIGNED AND MANUFACTURED IN INNOVATIVE WAYS. SO IT IS EASY TO DO THE MAINTENANCE WORK WITH LESS DOWN TIME, WHILE AT THE SAME TIME ENSURE THE SAFETY OF FINAL PRODUCT.
PRILAGOĐENA REŠENJA PO SISTEMU "KLJUČ U RUKE". ODGOVARAJUĆA PROIZVODNA LINIJA JE KLJUČNI FAKTOR USPEŠNOG POSLOVANJA SA POMFRITOM. UZ BOGATO ISKUSTVO I PROFESIONALNE INŽENJERE, MOŽEMO PONUDITI PRILAGOĐENA REŠENJA KOMPLETNE LINIJE POMFRITA KAKO BI ZADOVOLJILI VAŠE SPECIFIČNE POTREBE. / CUSTOMIZED TURNKEY SOLUTIONS. A SUITABLE PRODUCTION LINE IS A KEY FACTOR IN SUCCESSFUL FRENCH FRIES MAKING BUSINESS. WITH RICH EXPERIENCE AND PROFESSIONAL ENGINEERS, WE CAN OFFER TAILORED SOLUTIONS OF COMPLETE FRENCH FRIES LINE TO MEET YOUR SPECIFIC NEEDS.