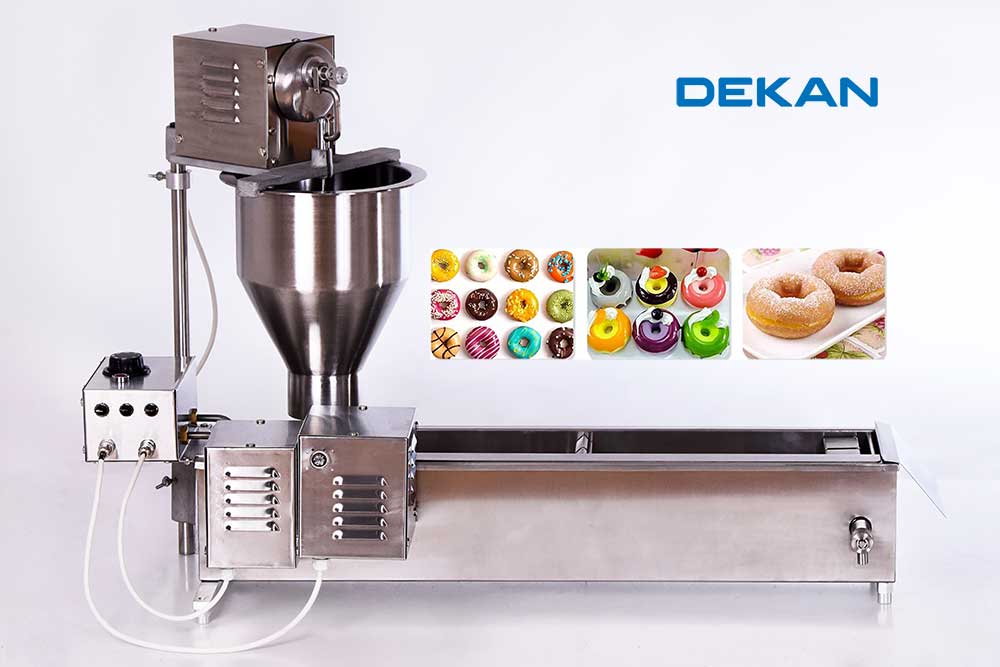 TEHNIČKE KARAKTERISTIKE / TECHNICAL SPECIFICATIONS

IZRADA MAŠINE OD INOX ČELIKA / MANUFACTURE OF STAINLESS STEEL MACHINE

POSEBNO DIZAJNIRANA ZA BRZO RASTAVLJANJE I ČIŠĆENJE / SPECIALLY DESIGNED FOR QUICK DISASSEMBLY AND CLEANING

POGODNA ZA POSTAVLJANJE NA MALE POVRŠINE / SUITABLE FOR INSTALLATION ON SMALL SURFACES

OPSLUŽUJE JEDNA OSOBA KOJA SE OBUČI ZA 30 min. / SERVED BY ONE PERSON WHO TRAINS IN 30 MIN.

KOMPLETNO AUTOMATIZOVANA I VISOKO PRODUKTIVNA / COMPLETELY AUTOMATED AND HIGHLY PRODUCTIVE

NAPAJANJE 220V 50Hz / POWER SUPPLY 220V 50Hz

INSTALIRANA SNAGA 3 KW / INSTALLED POWER 3 KW

KAPACITET max 1500 MINI KROFNI NA ČAS / CAPACITY max 1500 MINI DONUTS PER HOUR

The machine is intended for the production of donuts. Makes it easier and faster to prepare mini donuts. In just a few minutes you will be able to get the finished product. If you want to make a big profit with small investments, to have a constant and secure source of income even in these uncertain times, buy a DONUTS MACHINE. The machine is intended for the production of American donuts. Preparation begins by pouring oil into the fryer of the machine. The machine must be placed on a stable surface in a horizontal position with an required oil volume of 5.5 l and 9 l. Switch on the heater on the control panel with the appropriate button. According to the appropriate recipe, pour the pre-prepared dough into the basket of the dispenser. The production process can begin when the oil is heated to the frying temperature (around 200 °). The production process begins and takes place automatically through the following operations: dosing, frying, overturning, frying the other side and ejection.